Ultima Medium Maxi Senior is intended for medium and large breed dogs (10 kg or more) over 7 years of age to help maintain their health and vitality. Ultima Medium Maxi Senior contains minerals, vitamins, antioxidants, magnesium and eggshell (a natural source of collagen) to help strengthen bones and joints.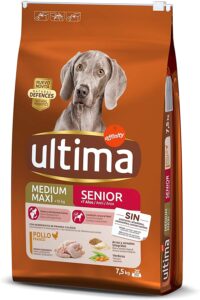 Description
Ultima Medium-Maxi Senior is a delicious feed designed to meet the special needs of dogs over 7 years old.
Chicken is a source of high-quality animal protein in this feed, which is also well accepted and digestible.
It is especially important that the diet of the older dog is adapted to the needs of this stage of life, to maintain physical mobility and keep bones and joints strong, it is important to provide your dog with a healthy and active lifestyle, even as he ages.
The chondroitin and glucosamine in this food help improve musculoskeletal function, contribute to the health of cartilaginous tissue and prevent or relieve osteoarthritis, in addition, they help build and maintain cartilage and its elasticity.
Calcium, phosphorus, and vitamin D help strengthen bones and teeth.
Omega-3 and omega-6 essential fatty acids, along with zinc and biotin, ensure a shiny, silky coat and healthy skin. Many important vitamins contribute to your dog's overall health and vitality.
Other functional ingredients promote digestion, strengthen the heart, freshen breath and reduce the accumulation of stones.
Ingredients
Chicken (15%), whole wheat (14%), dehydrated poultry protein, corn protein, rice (10%), corn (8%), animal fat, whole barley, cornmeal, hydrolyzed animal protein, beet pulp, yeast, fish oil, potassium chloride, salt, tetrasodium diphosphate, calcium carbonate, green tea, glucosamine, chondroitin sulfate.
Additives:
Vitamins: vitamin A 32 000 IU, vitamin D3 2130 IU, vitamin E 410 mg, vitamin C 350 mg.
Trace elements: taurine 1200 mg, vitamin B6 13.3 mg, ferrous sulphate monohydrate 260 mg, potassium iodide 1.9 mg, copper sulphate pentahydrate 33 mg, manganous sulphate monohydrate 123 mg, zinc sulphate monohydrate 551 mg, sodium selenite 0.22 mg.
With antioxidants.
(*milligrams per kilo of product)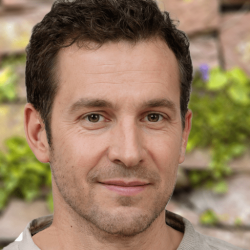 Latest posts by Juanjo Blanco
(see all)