The food Ultima medium is indicated for adult dogs and medium and large breeds (dogs over 10 kg).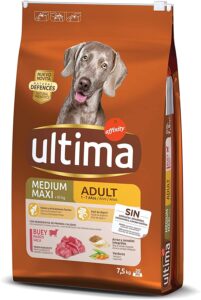 Description
This means that less food is needed daily than other types of feed to provide your pet with all the macronutrients he needs.
You can save money on feeding your pet with this feed, without compromising on quality.
Ultima Médium is made with carefully selected ingredients of the highest quality and steamed to perfection, thus retaining its great taste and nutritional value.
The main ingredient is the beef, accompanied by rice and whole grain products.
In this way, the nutritional needs of the animal for its growth are balanced with the optimal ratio of animal protein to calories to provide the animal with the vitality and energy it needs on a daily basis.
At the same time, this nutrient density increases the digestibility of the feed, this is because, on the one hand, consumption is reduced, and, on the other, beet pulp acts as a prebiotic.
Ingredients
Beef (18%), corn 12%, whole wheat 12%, rice 10%, dehydrated poultry protein, corn protein, hydrolyzed animal protein, cornmeal, whole barley, beet pulp, fish oil.
Additives:
Vitamins: vitamin A 32000 IU, vitamin D3 2130 IU, vitamin E 410 mg, vitamin C 350 mg, vitamin B6 13.3 mg.
Trace elements: iron 86 mg, iodine 1.45 mg, copper 8.8 mg, manganese 40 mg, zinc 195 mg, selenium 0.11 mg.
(*milligrams per kilo of product)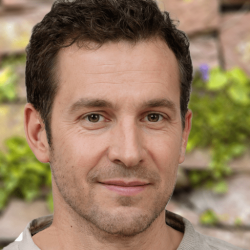 Latest posts by Juanjo Blanco
(see all)