True Instinct grain-free Junior special for puppies.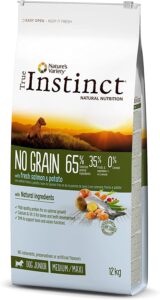 Description
True Instinct NO GRAIN contains a unique combination of natural, complete and balanced ingredients.
It offers a grain-free diet that contains fresh salmon as the main ingredient, as well as excellent fruits and vegetables such as peas, chickpeas and potatoes, providing an alternative source of carbohydrates to maintain optimal health.
Ingredients
Salmon (23%), dehydrated chicken (21%), dehydrated pork (9%), dehydrated peas (9%), dehydrated potato (9%), lard (8%) (stabilized with natural tocopherols), dehydrated chickpeas, protein hydrolysate (3.5%), beet pulp, pea meal, fish oil (0.5%), dehydrated apple (0.35%), dehydrated carrot (0.35%), dehydrated broccoli, dehydrated berries (0.01%).
Additives:
Vitamins: Vitamin A 30000 IU, vitamin D3 2000 IU, vitamin E: 450 mg, vitamin C, 350 mg.
Trace elements: ferrous sulphate monohydrate 237 mg, potassium iodide 1.7 mg, copper sulphate pentahydrate 30 mg, manganous sulphate monohydrate: 112 mg, zinc sulphate monohydrate: 527 mg, sodium selenite 0.2 mg.
Antioxidants: with natural antioxidants.
(*milligrams per kilo of product)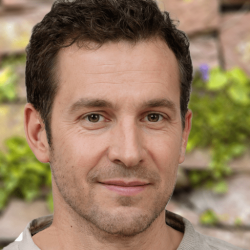 Latest posts by Juanjo Blanco
(see all)