Eukanuba is ideal for adult dogs of medium breeds.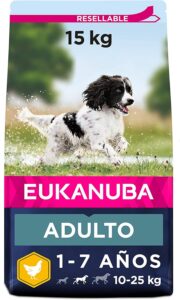 Description
Eukanaba's new and improved formula for active and medium-sized adult dogs.
This stage (from 1 to 7 years) is designed to develop musculature and balance energy levels to ensure optimal fitness in adult dogs. The formula of the medium breed Eukanuba feed is enriched with fresh chicken, which makes it tastier and provides a source of higher quality protein to keep your dog in the best condition.
It is an exclusive formula for medium-sized adult dogs and includes a mixture of probiotic FOS and beet fiber to promote healthy digestion, cassava to reduce fecal odor, a natural source of omega-6 and -3 to promote healthy skin and a beautiful coat, L-carnitine to help fat metabolism and antioxidant vitamins E and C to strengthen your immune system.
In addition, Eukanuba dog food with DentaDefense helps keep teeth clean and healthy. Give your dog Eukanuba Adult feed to keep him healthy from maturity to old age.
Eukanuba feed for medium breeds is a premium food for medium-sized dogs that promotes optimal fitness and health throughout life.
Ingredients
Dehydrated chicken and turkey 19% (including chicken 11%), fresh chicken (17%), corn, barley, oats, sorghum, wheat, dehydrated beet pulp (3.0%), chicken sauce, poultry fat, fishmeal, minerals (includes sodium hexametaphosphate (0.34%)), dehydrated whole egg, fructooligosaccharides (0.25%), glucosamine (of animal origin) (0.04%).
Additives:
Vitaminas: Vitamin A 48021IU, Vitamin E 267 mg, Vitamin C 60 mg, Vitamin D₃ 1593IU, beta-carotene 5.2 mg, L-carnitine 50 mg.
Trace elements: cupric sulphate pentahydrate (copper) 13 mg, manganese sulphate monohydrate (manganese) 39 mg, potassium iodide (iodine) 2.5 mg, ferrous sulphate (iron) monohydrate 67 mg, zinc oxide (zinc) 112 mg.
Flavorings: organic rosemary extract 46 mg, cassava extract 250 mg, tea extract 23 mg.
Antioxidants: tocopherol extract (natural) vegetable oil 91 mg.
(*milligrams per kilo of product)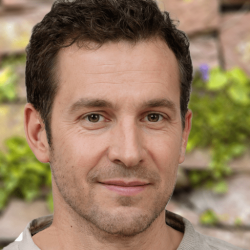 Latest posts by Juanjo Blanco
(see all)