Having a dog is like having a security system at home; if there is someone at the door, Curro is always there to let me know.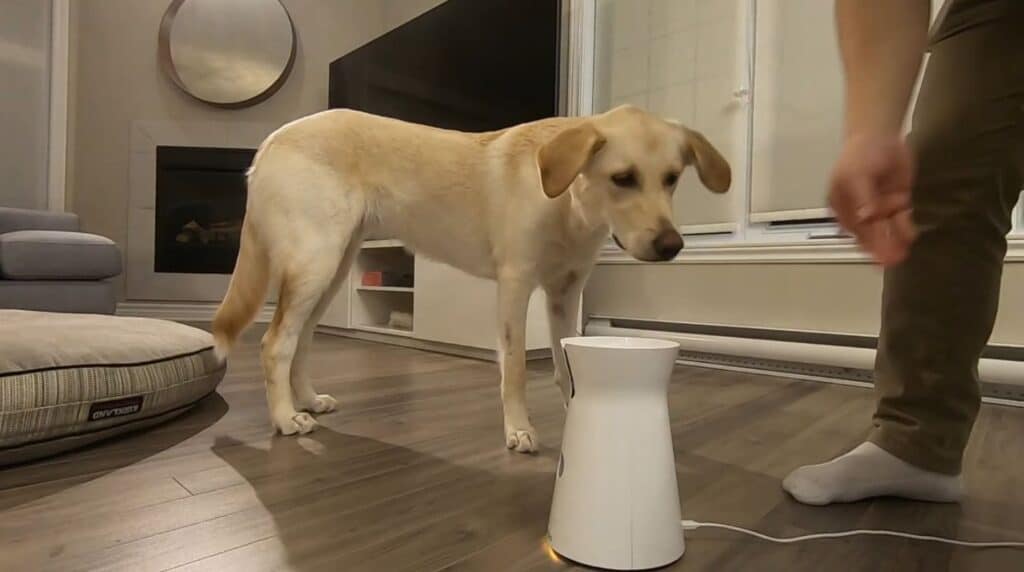 With the Furbo dog camera, I have an extra line of defense. It allows me to control my dog and my house from my phone no matter where I am.
Priced from $199 (when on sale) to $250, the Furbo camera is both an indoor security camera and a dog guardian, offering crisp 1080p video even in the dark, as well as barking alerts and two-way audio so you can hear and talk to my dog.
Best of all, it allows me to hand out treats to my dog on the go. Although the Furbo dog camera is expensive, especially when compared to traditional surveillance cameras, it is practical and fun, and gives me peace of mind that my dog and my house are safe, so it is worth the outlay.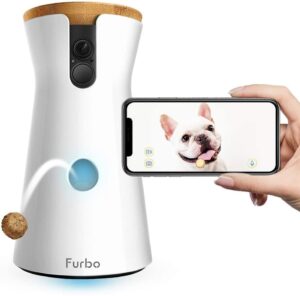 Pros
1080p video with night vision
Easy to set up and use
Supports two-way audio
Offers activity, barking and person alert
Works with Amazon Alexa
Cons
Price
No Google Home support
Design and features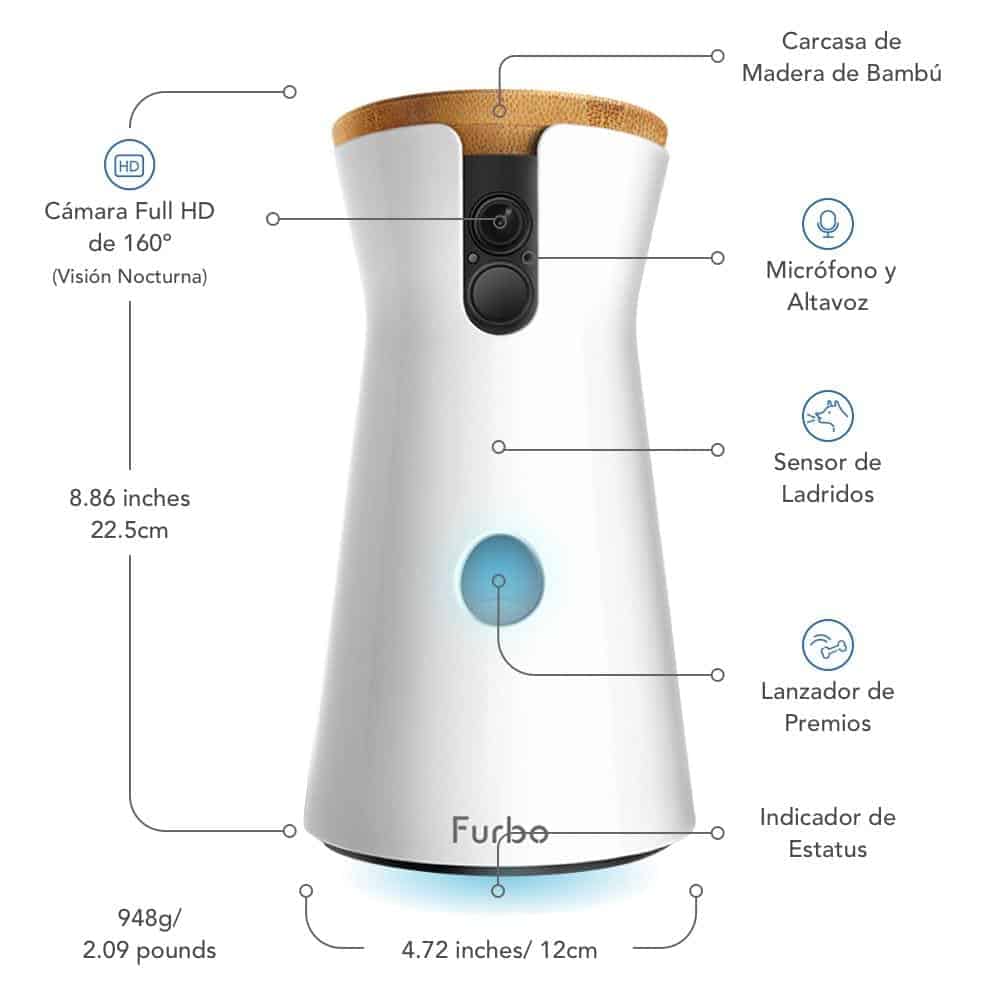 The Furbo camera is 22.5 centimeters tall and has a 12-centimeter long oval base.
It weighs 948 grams and comes with a 1080p camera with a 160-degree wide-angle lens, 4x digital zoom and automatic infrared night vision.
It also has a microphone and speaker, a bark detector and a food launcher.
There's a status indicator at the bottom, an internal recess for storing goodies (up to 100 depending on size), and a natural bamboo top on top for a sleek, stylish look.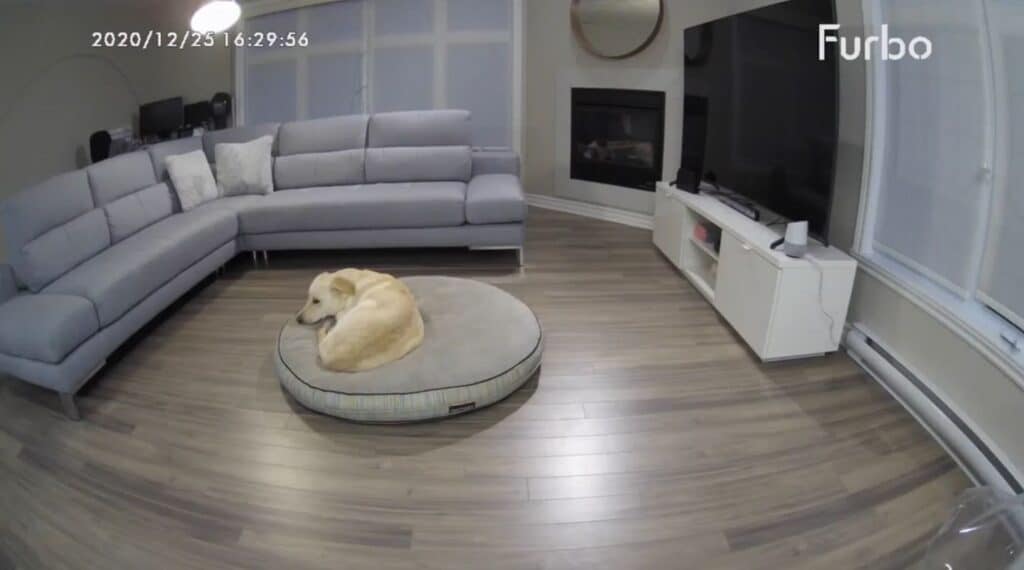 You can watch live videos from the Furbo camera on your phone, listen and talk to your dog with two-way audio, leave treats, receive barking alerts, and take photos and videos.
Furbo's smart alerts notify you when your dog is active, looking directly at the camera (what's called a selfie), barking for more than a minute, crying or screaming. The alerts also alert you when people are detected or when smoke or carbon monoxide detectors are activated, a very important function in my opinion, in case of fire.
When Furbo detects an event related to a person or dog, such as an activity or barking, it records 15 seconds of video. These videos are stored in the application for 24 hours, during that time, you can save them in the internal memory of your smartphone if you want to access them for longer.
Configuration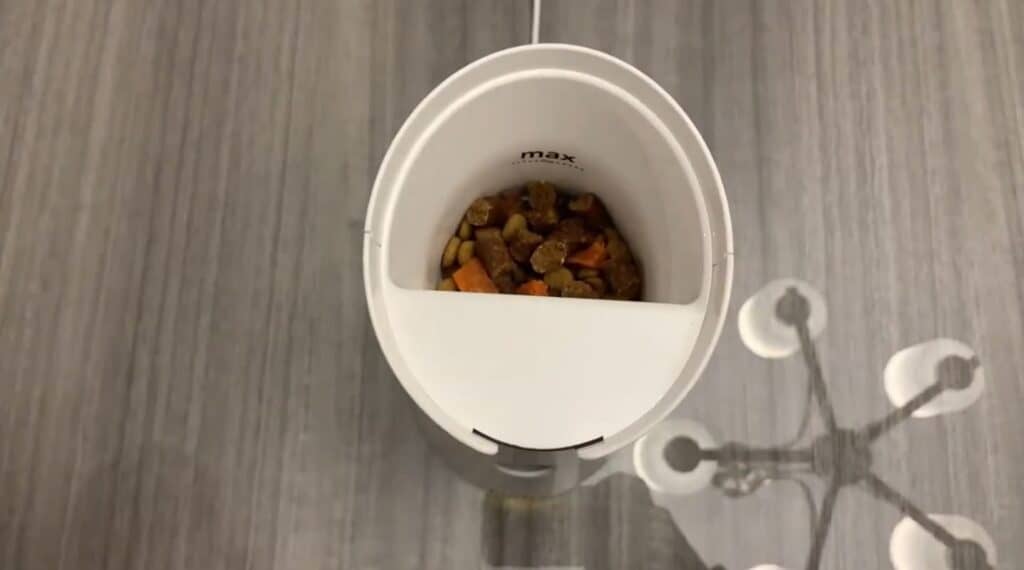 The company recommends installing it in a place where dogs usually move, at a height of between 12 and 20 centimeters from the ground, depending on the height of the dog.
It comes with three pieces of 3M double-sided duct tape at the bottom for those who are worried about their dog dropping it.
I recommend doing a test with the camera being present to see the reaction of the dog, I for example would not place it near the TV or any object susceptible to my dog throwing it.
The quick start guide that came with the unit shows you how to set it up very easily, just plug the unit in, turn it on and wait for the indicator light on the bottom to turn green and you're ready to go.
Next, download the Furbo app (available for Android or iOS), create an account, and the app will walk you through the rest of the installation process.
The app will ask you (optionally) to turn on notifications, select a device to set up, and alert you if the status light has turned green, then you'll be asked for permission to use Bluetooth to connect your phone to your Furbo device.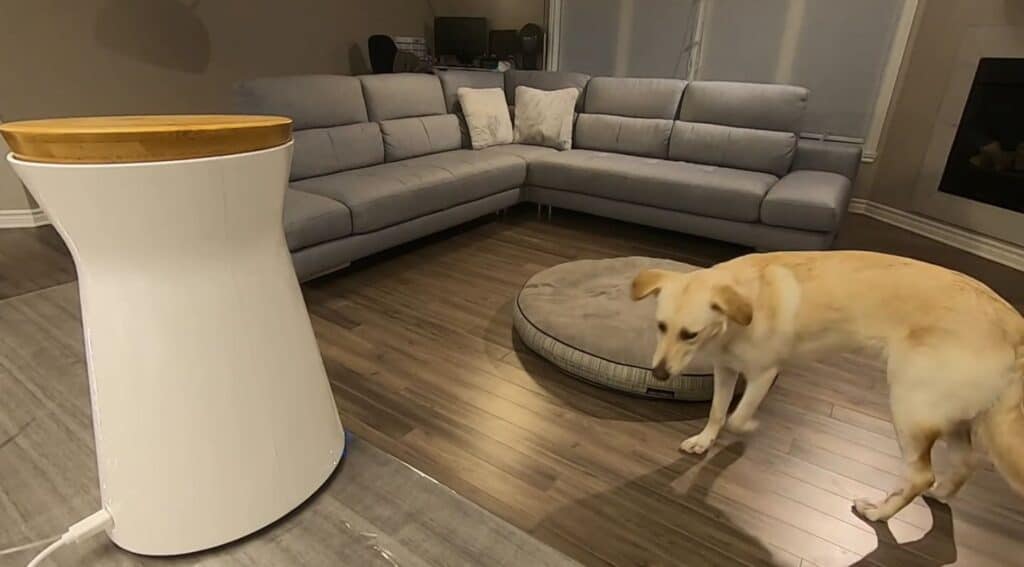 Once the app detects your Furbo device via Bluetooth, it will ask you to select a Wi-Fi network and enter your password, then asks where your Furbo is located.
Once the app is set up, you can connect the Furbo camera to "your dog".
Veterinarians and trainers have confirmed that dogs have a "positive association" with Furbo when presented correctly.
I recommend putting your dog's favorite treats (or feed) inside Furbo.
The treats you put in the Furbo should be dry, hard, round and have a diameter of between 1 centimeter to 1 centimeter and a half is ideal. If they are not rounded and dry enough, it is very possible that they will get stuck.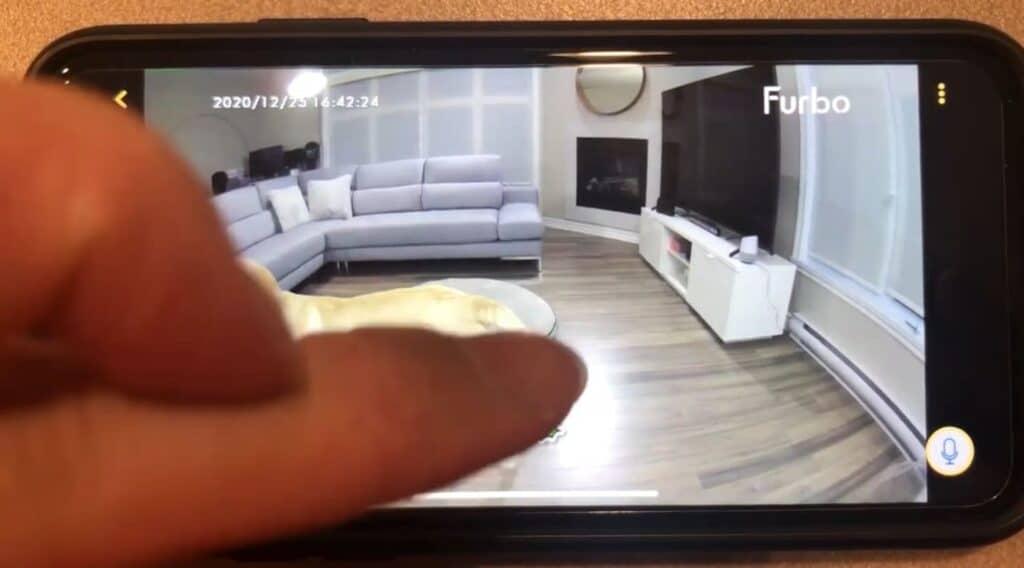 You can also bring your dog closer to the Furbo camera and let him smell it to get used to it and then stand next to it and throw a treat with your hand so that your dog associates the camera with the treat.
To get your dog's attention and give him a positive connotation, Furbo makes a barking sound when you share treats.
My dog is not very motivated by treats, but he quickly accepted them and ate all the ones that Furbo threw at him (he threw two or three at once).
At first, the treats went under the couch because they were placed there, so I had to turn the camera.
Interface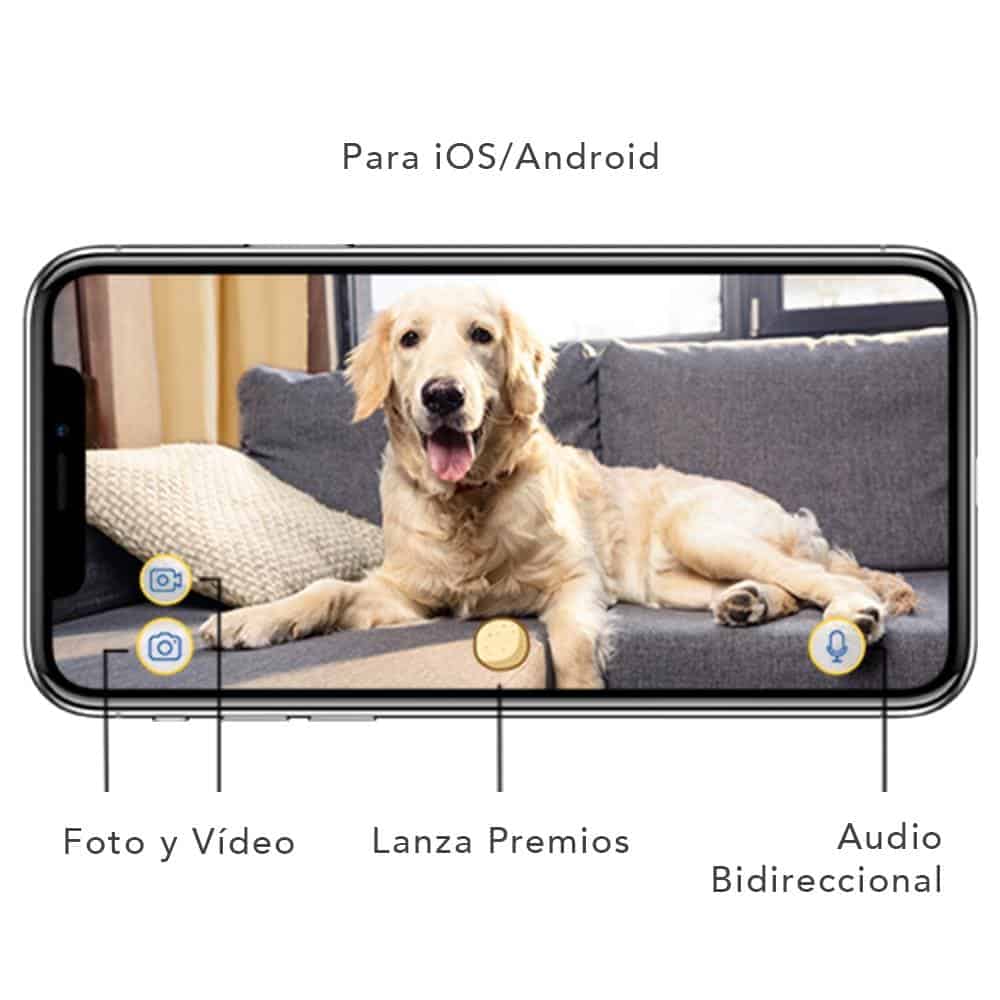 From the home screen, press the Play button to start following your pet.
This will open a live video stream in full-screen mode. The date and time appear at the top, and buttons at the bottom let you take videos and photos, throw reward treats, and turn on the microphone to talk to your pet.
On the home screen, alerts of barking, behavior, people and selfies appear, and when you click on each of them, a timeline of the events and a 15-second video of each of them appears.
Below the buttons is a timeline of events.
The menus section allows you to access help content (such as FAQs and live customer support) and camera settings.
In the settings menu, you can change the camera name, video quality (360p, 720p, 1080p), night recording (automatic, always on, off), audio management (including the option to record your own voice), speaker volume and on/off timer (the Furbo camera will automatically turn on at the selected time).
You can configure the sensitivity of the bark alarm and disable the different alarms activated by default (people, selfies, activity, continuous barking, dog barking, dog howls, CO/smoke alarm and when the wifi or power is turned off).
Yield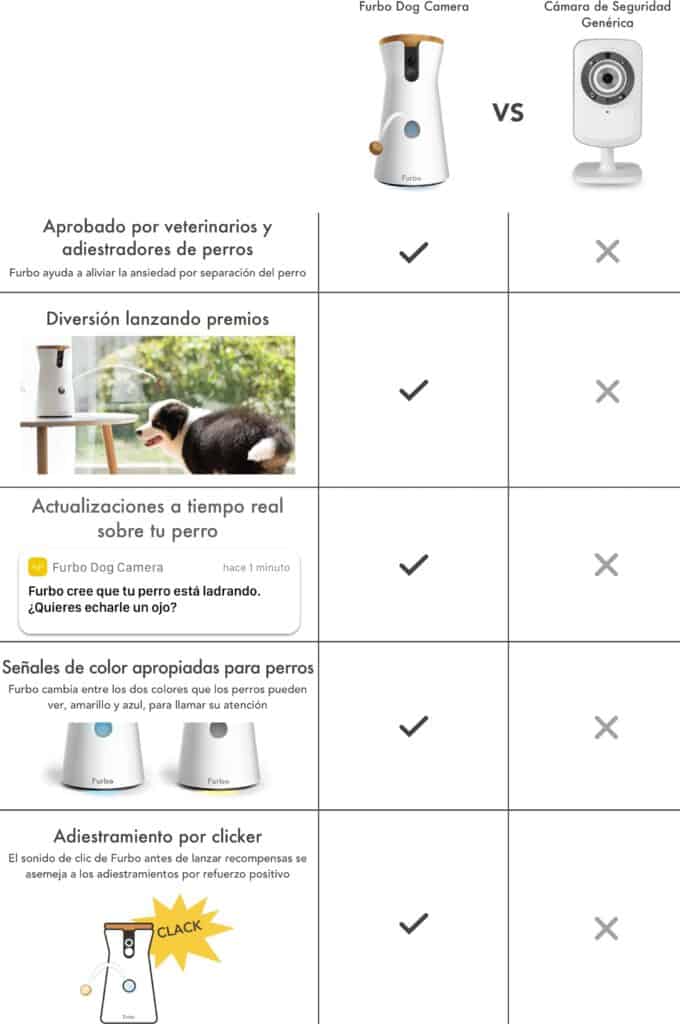 The Furbo has a wide field of view and sharp image quality. In our tests, we were able to clearly see and hear our dog in the dark thanks to automatic infrared night vision.
In good lighting conditions, the images of the Furbo are sharp and colorful. Night vision is clear from a distance of about 8 meters.
The reward throwing feature is very useful and I recommend using it as a distraction when the dog is restless, walking, licking or barking. It can also be used as a reward when the dog abandons these behaviors.
In a matter of minutes, Curro positively associated the sound of the sweets thrown, now, when he hears it, he knows he has to go to the camera and wait for a treat.
The barking warning is especially useful, when the app alerts me that my dog is barking, I turn on the video stream to make sure everything is okay.
Once I turn on the microphone and start talking, I grab their attention.
In testing, the integration with Alexa has also worked well (although unfortunately it is not compatible with Google Home).
With the Furbo skill turned on in the Alexa app, I was able to use my voice to throw treats. He just had to say, "Alexa, ask Furbo to throw a treat" and the camera will do the rest.
The status light section is useful, depending on the color it will tell you if it is working (white light), in sleep state (yellow light), in use (blue light) or if it has lost the wifi connection (Blue light).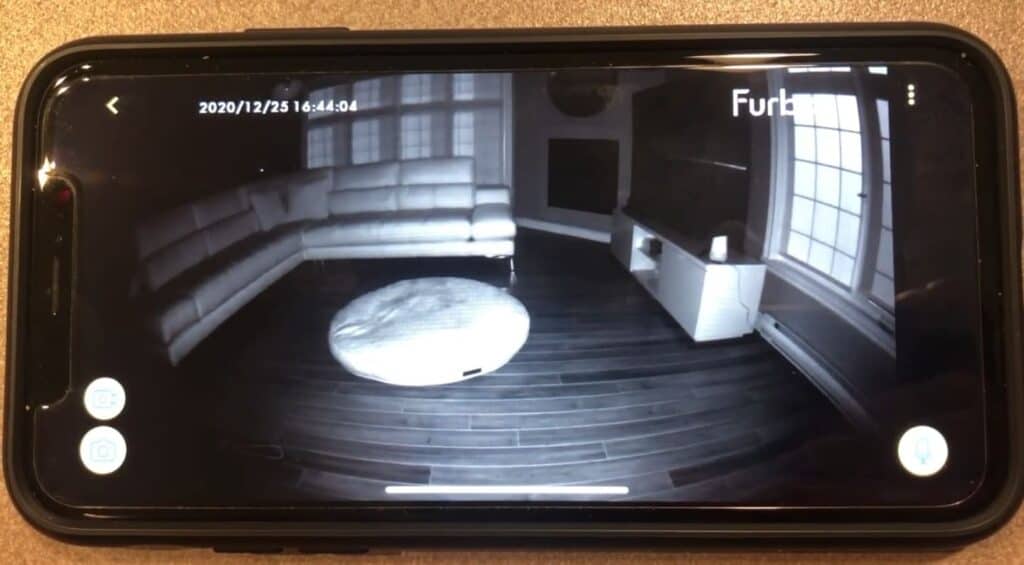 The company says blue is used for interactive mode and yellow for sleep mode because dogs can see these colors, so over time, your dog can learn that blue light means you're there.
One of my only concerns with the Furbo camera is that sometimes the warnings can be overwhelming; For example, if I enter the camera's line of sight, it sends me a notice to the phone that someone has been seen.
If you start to get too many alerts, you can always turn off some of them. The app will still keep a record of the event, but you won't receive a notification on your phone about it.
At one point, Furbo couldn't connect to the app, but that may be due to my phone's connection or the fact that I installed the Furbo firmware update at the same time. Other than that, I haven't had any connection issues.

Do you help us share?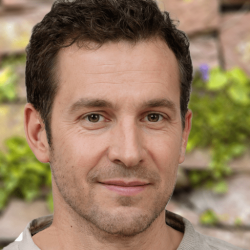 Latest posts by Juanjo Blanco
(see all)