Ultima Medium – Maxi Junior is a nutrient-rich feed based on chicken and rice, a source of protein and carbohydrates that are easily digestible.
It also contains minerals and vitamin D to strengthen teeth and bones.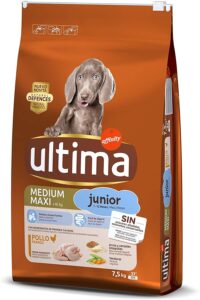 Description
Ultima Medium-Maxi Junior is a high quality feed adapted to the special needs of puppies.
Vitamins A, C, D and E, brewer's yeast, minerals and DHA fatty acids support optimal growth and vitality in young dogs.
Chicken is one of the finest and most satisfying animal proteins that exist.
Fish oil is a valuable natural source of DHA, a long-chain omega-3 essential fatty acid that is especially important for your puppy's brain development and vision.
This feed also has anti-inflammatory properties and promotes joint health and the functioning of the heart and kidneys.
Calcium and phosphorus help strengthen muscles, bones and teeth. Thanks to its high nutrient density, only a small amount of food is needed to reap all the benefits, soothing your dog's digestive system and promoting healthy digestion.
With the addition of essential vitamins and minerals, this food is complete and balanced to support the optimal growth of your puppy.
Ingredients
Chicken (18%), dehydrated poultry protein, corn protein, rice (10%), corn (7%), whole wheat (7%), animal fat, cornmeal, whole barley, hydrolyzed animal protein, beet pulp, fish oil (source of DHA), salt, potassium chloride.
Additives:
Vitamins: vitamin A 32 000 IU, vitamin D3 2130 IU, vitamin E 410 mg, vitamin C 350 mg, vitamin B6 13.3 mg.
Trace elements: ferrous sulphate monohydrate 261 mg, potassium iodide 1.9 mg, copper sulphate pentahydrate 33 mg, manganous sulphate monohydrate 123 mg, zinc sulphate monohydrate 562 mg, sodium selenite 0.24 mg.
With antioxidants.
(*milligrams per kilo of product)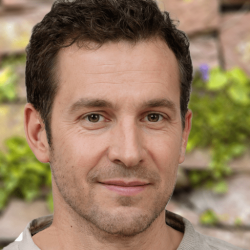 Latest posts by Juanjo Blanco
(see all)