Advance Sensitive Medium-Maxi is a premium feed specially designed for adult dogs of medium and large breeds with a sensitive digestive system.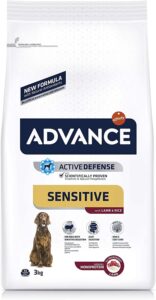 Description
Advance Sensitive lamb and rice is a feed for adult dogs of all breeds.
It contains biotin and zinc to provide exceptional care to your pet's skin and coat.
This high-quality food contains no ingredients that can lead to food allergies, such as egg, soy, or wheat gluten, so it's designed specifically for dogs with sensitive stomachs.
Sheep meat is an extremely digestible alternative source of protein that, combined with rice, facilitates your dog's digestion.
It is also the only source of animal protein, making it a protein-rich food. It also has a high content of inulin, which promotes good digestion.
Omega-3 and omega-6 fatty acids support healthy skin and a shiny coat.
Ingredients
Lamb (17%) corn corn protein rice (14%) animal fat, stabilized with a mixture of naturally occurring tocopherols, dehydrated lamb protein, cornmeal, beet pulp, hypoallergenic flavoring, fish oil, potassium chloride, fructooligosaccharides, salt, natural polyphenols (0.01%).
Additives:
Vitamins:vitamine A 27000 IU, vitamin D3 1800, IU vitamin E 500 mg, biotin 0.3 mg.
Trace elements Ferric sulphate monohydrate 260 mg, potassium iodide 1.9 mg, copper sulphate pentahydrate 33 mg, manganous sulphate monohydrate 123 mg, zinc sulphate monohydrate 407 mg, sodium selenite 0.2 mg.
With antioxidants.
(*milligrams per kilo of product)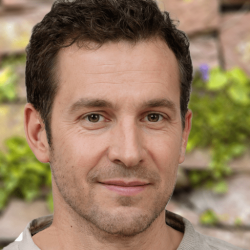 Latest posts by Juanjo Blanco
(see all)