Nature's Variety True Instinct No Grain Mini with fresh salmon and alternative carbohydrates, such as peas, chickpeas and potatoes. All this together constitutes a natural, healthy and balanced recipe.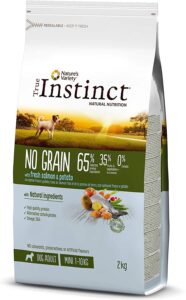 Description
Nature's Variety True Instinct No-Grain Mini is a grain-free and gluten-free food specially developed for small dogs.
The ingredients are carefully selected and steamed to maintain excellent nutritional value.
The grain-free range is suitable for dogs with receptive, tolerant and sensitive digestive tracts, thanks to the use of cereal- and gluten-free ingredients.
Fresh salmon meat is the main ingredient of this easily digestible food, with potatoes, peas and chickpeas.
It also contains butter, a natural source of tocopherols (vitamin E), and fish oil, which provides fatty acids good for skin and coat health.
Supplemented with fruits and vegetables, it offers your dog a complete, balanced and tasty diet. Mini Grain is a nutritious and very energetic food that helps stimulate your small dog's metabolism and maintain good health.
Nature's Variety True Instinct is a natural and healthy food formulated to meet the nutritional needs of your dog with ingredients from their natural environment, designed to help develop your dog's instincts and strengthen their bond with the environment.
Ingredients
Salmon (23%), dehydrated chicken (21%), dehydrated peas (12%), dehydrated pork (9.5%), lard (7%) (stabilized with natural tocopherols), pea meal, dehydrated potato (6%), protein hydrolysate (4%), dehydrated chickpeas, beet pulp, minerals, fish oil (0.5%), dehydrated apple (0.35%), dehydrated carrot (0.35%), dehydrated broccoli, dehydrated berries (0.04%).
Additives:
Vitamins: vitamin A 27 000 IU, vitamin D3 1800 IU, vitamin E 450 mg, vitamin C350 mg.
Trace elements: ferrous sulphate monohydrate 260 mg, potassium iodide 1.9 mg, copper sulphate pentahydrate 33 mg, manganous sulphate monohydrate 123 mg, zinc sulphate monohydrate 407 mg, sodium selenite 0.2 mg.
With natural antioxidants.
(*milligrams per kilo of product)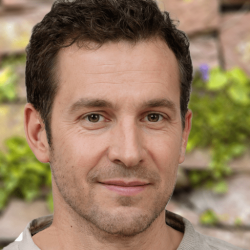 Latest posts by Juanjo Blanco
(see all)