Acana dog food for adult small breed dogs, is made with natural ingredients that provide your pet with the energy he needs.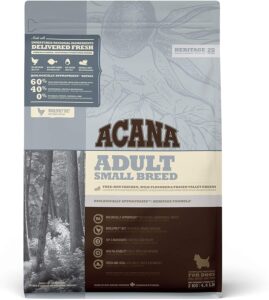 Description
Acana Adult Small dog food is a food developed for dogs weighing up to 9 kg in adulthood.
It is an all-natural food that contains 70% meat, 1/3 of which is completely fresh, providing our friends with the best and most natural nutrients.
Acana feed contains three types of meat: free-range chicken, free-range eggs and natural halibut, in a recipe that covers all the nutritional needs of our pets, without the use of synthetic additives.
This also means that the composition is very pleasant to the palate, which makes the food appetizing.
Ingredients
Fresh boneless chicken (12%), dehydrated chicken (12%), dehydrated turkey (12%), red lentils, whole green peas, beans, chicken fat (5%), fresh chicken giblets (liver, heart, kidney) (4%), dehydrated Atlantic herring (4%), fresh whole eggs (4%), fresh whole sole (4%), herring oil (2%), sun-cured alfalfa (2%), green lentils (2%), whole yellow peas, pea fiber, fresh chicken cartilage (1
%), dehydrated brown seaweed, fresh zucchini, pumpkin, fresh whole turnips, kale leaves, fresh spinach, brown mustard, turnip greens, fresh carrots, red delicious fresh apples, fresh barlett pears, freeze-dried chicken liver, freeze-dried turkey liver, blueberries, cranberries, chicory root, turmeric, milk thistle, burdock root, lavender, marshmallow root, rose fruit.
Additives:
Vitamins: vitamin A supplement, vitamin D3 supplement, vitamin E supplement, niacin, riboflavin, folic acid, biotin, vitamin B12 supplement.
Oligoelementos:zinc, 100 mg, enterococcus faecium.
(*milligrams per kilo of product)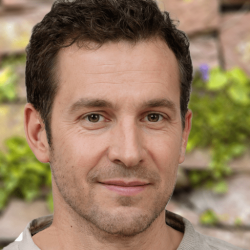 Latest posts by Juanjo Blanco
(see all)