Eukanuba feed is ideal for small adult dogs.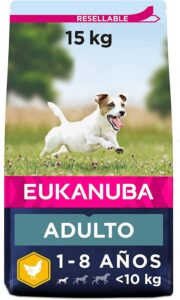 Description
Eukanuba feed for adult small breed dogs between 1 and 8 years old is recommended for small dogs such as Yorkies, Pugs, Bulldogs and Malteses.
This dog food has one of the highest protein and fat contents of all Eukanuba foods (compared to other Eukanuba small dog foods).
This feed is specially formulated for small dogs with faster metabolisms, especially since small dogs consume more calories and need more energy per pound of body weight than larger dogs.
It contains an optimal ratio of omega-6 and omega-3 acids to help maintain healthy skin and a shiny coat, as well as high-quality animal protein (chicken is the main ingredient) to build strong and healthy muscles.
It also contains optimal levels of DHA, which is clinically proven to produce smart, strong puppies.
Eukanuba feed for adult small breed dogs has been developed in collaboration with veterinarians and is recommended by breeders.
Ingredients
Dehydrated chicken and turkey (28% including chicken 17%, natural source of glucosamine, chondroitin sulfate and taurine), fresh chicken (15%), chicken sauce, corn, poultry fat, oats, wheat, barley, sorghum, dehydrated beet pulp (3.5%), fishmeal (natural source of omega 3 fatty acids), mineral substances (includes sodium hexametaphosphate 0.35%), dehydrated whole egg, fructooligosaccharides (0.38%, natural prebiotic).
Additives:
Vitamins: vitamin A 47749IU, vitamin E 265 mg, vitamin C 60 mg, vitamin D1584IU, beta carotene 5.2 mg, L-carnitine 50 mg.
Trace elements: copper sulfate pentahydrate (copper) 9 mg, potassium iodide (iodine) 1.1 mg, zinc oxide (zinc) 100 mg, manganous sulfate monohydrate (manganese) 4 mg, sodium selenite (selenium) 0.01 mg.
Antioxidants: (natural) extracts of tochoferol from accepted vegetable 86 mg.
Flavoring compounds: tea extract 23 mg, organic rosemary extract 46 mg.
(*milligrams per kilo of product)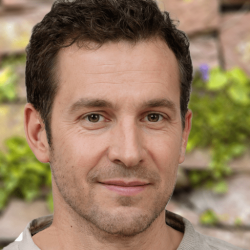 Latest posts by Juanjo Blanco
(see all)