Eukanuba feed is ideal for adult dogs of large breeds.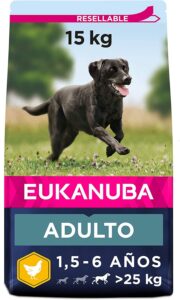 Description
A low-fat formula that helps maintain healthy joints and optimal weight without stressing joints.
It contains natural glucosamine and chondroitin sulfate to help maintain healthy cartilage.
Eukanuba large breed dog feed contains high-quality animal proteins (the main ingredient is chicken), fats, carbohydrates, fiber, vitamins and minerals essential for the health and well-being of adult dogs of large and giant breeds.
These foods have been developed in collaboration with veterinarians and recommended by breeders to ensure that your dog receives a 100% complete and balanced diet.
All Eukanuba dry adult dog foods feature 3D DentaDefense technology.
It helps keep your dog's teeth healthy by removing stains with each chewing and reducing tartar buildup by up to 80% (results may vary).
Ingredients
Fresh chicken (16%), dehydrated chicken and turkey 16% (including chicken 10%), corn, wheat, corn kernels, oats, barley, sorghum, fishmeal, chicken sauce, dehydrated beet pulp (2.6%), minerals (including sodium hexametaphosphate (0.34%)), dehydrated whole egg, fructooligosaccharides (0.25%), dehydrated brewer's yeast, glucosamine (of animal origin) (0.04%). Chondroitin sulfate (0.004%).
Additives:
Vitaminas: Vitamin D₃ 1586IU, Vitamin C 60 mg, Vitamin E 266 mg, Vitamin A 47810IU, beta-carotene 5.2 mg, L-carnitine 50 mg.
Trace elements: potassium iodide (iodine) 2.4 mg, manganese sulfate monohydrate (manganese) 37 mg, ferrous sulfate monohydrate (iron) 64 mg, cupric sulfate pentahydrate (copper) 12 mg, zinc oxide (zinc) 106 mg.
Flavorings: organic rosemary extract 43 mg, tea extract 21 mg, cassava extract 250 mg.
Antioxidants: tocopherol extract (natural) vegetable oil 85 mg.
(*milligrams per kilo of product)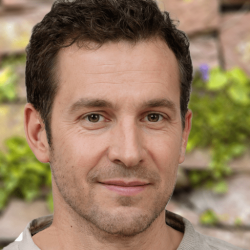 Latest posts by Juanjo Blanco
(see all)