Acana Light & Fit Dog Food is a complete low-carb food for overweight adult dogs that helps maintain optimal weight and health.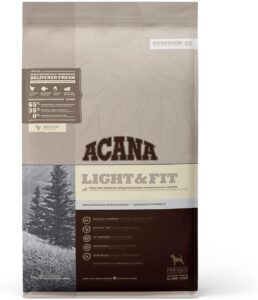 Description
Acana Light & Fit dog food is a complete and balanced food for adult dogs with a tendency to overweight, as it has a high protein content and a low carbohydrate content.
It is a food made with special ingredients and natural additives, designed to provide your dog with a diet that allows him to improve his weight without sacrificing the taste of the best natural food of Acana.
Acana Light & Fit is intentionally formulated with natural products to ensure your pet stays healthy at all times.
Among its ingredients, we find abundant proteins to maintain muscle mass at optimal levels and plenty of fiber and vitamins to promote good digestion and digestive function.
Acana Light & Fit Dog Formula contains omega-3 fatty acids to help maintain healthy skin and hair.
It contains no cereals, so your pet won't experience the instant sugar spike associated with obesity.
Ingredients
Fresh boneless chicken (16%), dehydrated chicken (14%), dehydrated turkey (14%), red lentils, whole green peas, pea fibre, fresh chicken giblets (liver, heart, kidney) (5%), dehydrated Atlantic herring (5%), fresh whole eggs (4%), fresh whole sole (4%), sun-cured alfalfa (4%), beans (4%), green lentils, whole yellow peas, chicken fat (1%), herring oil (1%), fresh chicken cartilage (1%), brown seaweed, fresh zucchini, pumpkin, fresh parsnips, kale leaves, fresh spinach, brown mustard, turnip greens, fresh carrots, fresh red delicious apples, fresh barlett pears, freeze-dried chicken liver, freeze-dried turkey liver, blueberries, cranberries, chicory root, turmeric, milk thistle, burdock root, lavender, marshmallow root, rose fruit.
Additives:
Vitamins: vitamin A supplement, vitamin D3 supplement, vitamin E supplement, niacin, riboflavin, folic acid, biotin, vitamin B12 supplement.
Trace elements: protein zinc, protein iron, protein manganese, protein copper, selenium yeast, fermentation product Enterococcus faecium.
(*milligrams per kilo of product)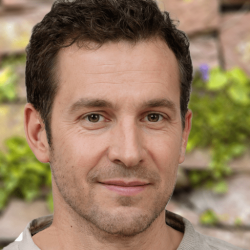 Latest posts by Juanjo Blanco
(see all)