Acana Prairie Poultry dog food with chicken is protein-rich, gluten-free, vitamin-rich, better digested and full of flavor.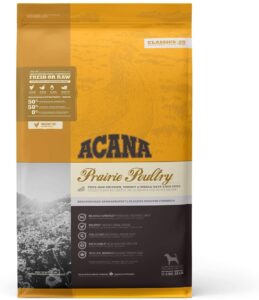 Description
Acana Prairie Poultry dog food is a dog food with a higher content of animal protein from chicken, turkey and eggs.
A variety of vegetables, seaweed, berries and botanicals are added to provide lightness and fiber to complete the formula and add flavor to make the food more digestible.
This Prairie Poultry dog food comes with a vitamin supplement to provide your dog with all the nutrients he needs to strengthen his immune system and his organism.
Vitamins A, E, zinc and copper are added to this product.
Ingredients
Dehydrated chicken (25%), cut oats (23%), fresh chicken (5%), fresh chicken giblets (liver, heart, kidney) (5%), red lentils, whole green peas, green lentils, fresh turkey (4%), fresh whole egg (4%), chicken fat (4%), whole chickpeas, whole yellow peas, whole oats, herring oil (3%), sun-cured alfalfa, lentil fiber, brown seaweed, fresh zucchini, butternut squash pumpkin, fresh parsnips, kale leaves, fresh spinach, fresh carrots
SCAS, fresh red apples, fresh barlett pears, freeze-dried chicken liver (0.1%), salt, blueberries, cranberries, chicory root, turmeric, milk thistle, burdock root, lavender, marshmallow root, rose fruit.
Additives:
Vitamins: vitamin Auplemento, vitamin D3 supplement, vitamin B5.
Trace elements: chelated zinc and choline.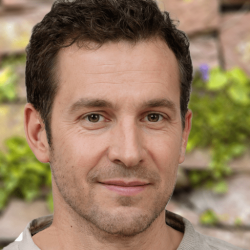 Latest posts by Juanjo Blanco
(see all)