Advance Maxi Puppy is a high quality food designed to meet the specific nutritional needs of large breed puppies (over 30 kg).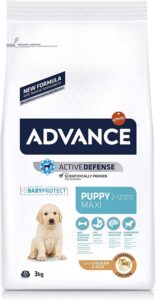 Description
Advance Baby Protect Puppy Maxi is a high quality feed designed for puppies (2-12 months) and large dogs (adult weight over 30 kg) to ensure optimal growth and development of your pet.
Thanks to its ingredients, it is the ideal food to protect your puppy during its first months of life.
It contains a unique nucleotide formula that rapidly activates the immune system and increases protection against pathogens.
Thanks to its calcium/phosphorus ratio, it also ensures your puppy's bone growth. The presence of omega-3 fatty acids promotes normal development of the central nervous system, learning and vision.
It also contains prebiotics, probiotics and immunoglobulins necessary for the development of the immune system.
Ingredients
Ingredients: chicken (16%), rice (15%), corn gluten meal, dehydrated poultry proteins, wheat, corn, animal fat (stabilized with vitamin E), hydrolyzed animal protein, beet pulp, dehydrated tuna protein, dehydrated egg, plasma protein, hydrolyzed sunflower oil, yeast, fish oil, oat fiber, potassium chloride, salt, citrus extract rich in bioflavonoids, glucosamine, chondroitin sulfate.
Additives:
Vitamins: vitamin A 20000 IU, vitamin D3 1500 IU, vitamin E – tocopherol 470 mg, vitamin C 350 mg.
Trace elements: copper (cupric sulfate pentahydrate) 8.8 mg, taurine 1200 mg.
(*milligrams per kilo of product)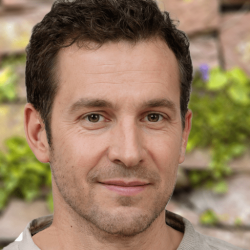 Latest posts by Juanjo Blanco
(see all)