Acana Puppy Junior dog food for medium sized puppies.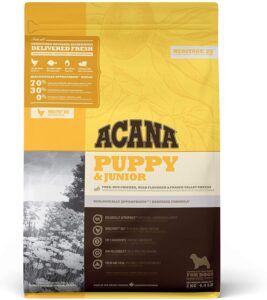 Description
for dogs Acana Puppy Junior for puppies who need to be strong, healthy and have the necessary energy to continue learning and exploring new environments.
To ensure a nutritious diet, it is best to choose the right puppy food based on the weight and size of the puppy's breed.
Acana Puppy is a complete and balanced formula designed for growing puppies. Fatty acids take care of their coat and help them grow, while omega-3s and other amino acids contribute to brain development and eye health.
The Acana Puppy feed has a high content of calories and protein, since puppies need a lot of energy to grow and stay active, in addition, it is a low-carbohydrate food that only contains oat grains, which facilitates their digestion and does not cause allergic reactions.
Ingredients
Fresh boneless chicken (16%), dehydrated chicken (13%), dehydrated turkey (13%), red lentils, whole green peas, fresh chicken giblets (liver, heart, kidney) (6%), chicken fat (6%), fresh whole eggs (4%), fresh whole sole (4%), dehydrated Atlantic herring (3%), herring oil (3%), sun-cured alfalfa (2%), green lentils, beans (2%), whole yellow peas, pea fibre, fresh chicken cartilage (2%), brown seaweed, fresh zucchini, pumpkin, fresh parsnips, kale leaves, fresh spinach, brown mustard, turnip greens, fresh carrots, red delicious fresh apples, fresh barlett pears, freeze-dried chicken liver, freeze-dried turkey liver, blueberries, cranberries, chicory root, turmeric, milk thistle, burdock root, lavender, marshmallow root, rose fruit.
Additives:
Vitamins:vitamin A 13500 UI, vitamin D3 1450 UI, vitamin E 110 IU.
Trace elements: iron 190 mg, iodine 2.1 mg, copper 19 mg, manganese 13 mg, zinc 195 mg, selenium 0.6 mg.
(*milligrams per kilo of product)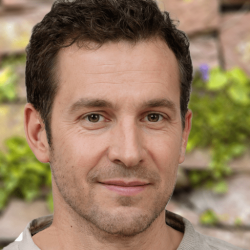 Latest posts by Juanjo Blanco
(see all)