True Instinct Original is made with a unique combination of complete and balanced natural ingredients. It is made from fresh lamb, the main ingredient, with the addition of whole grains (brown rice, barley and oats), fruits and vegetables to maintain optimal health.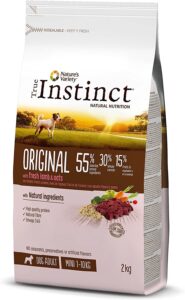 Description
True Instinct Original Mini lamb dog food is made with high quality meat and a variety of fruits and vegetables to provide your pet with the nutrition he needs for his daily activities.
The high lamb and liver content (21.5%) and chicken (17%) provides optimal, balanced protein and calories to help your dog maintain muscle mass and activity level.
The food is made with high-quality natural ingredients and the lamb tastes great.
It is suitable for small adult dogs that weigh at least kilo, such as Jack Russell Terrier, Chihuahuas, Yorkshire Terrier or Poodles.
The benefits of this food are varied and complete, on the one hand, the regular consumption of this food favors the digestive health of your dog thanks to the prebiotic fiber and the whole grains it contains: brown rice, barley and oats.
On the other hand, essential fatty acids such as omega-3, omega-6 and zinc have a beneficial effect on the skin and coat, improving their quality and health.
Your pet's skin will be hydrated and his coat will become shiny and resilient.
Strengthening the immune system is another benefit that the True Instinct food provides to your best friend, thanks to the high levels of antioxidants contained in vitamins E and C and selenium.
Proteins and zinc also contribute to the proper functioning of the defense system.
Ingredients
Lamb (17.5%, with 4% chicken liver), dehydrated chicken (17%), brown rice, whole barley, dehydrated pea, lard (8.5%) stabilized with natural tocopherols, dehydrated pork (8%), oats (4%), protein hydrolysate (3.5%), beet pulp, flax seed, minerals, fish oil (0.5%), dehydrated apple (0.35%), dehydrated carrot (0.35%), dehydrated broccoli (0.15%), dehydrated berries (0.01%).
Additives:
Vitamins:vitamine A 30000 lU, vitamin D3 2000 lU, vitamin E 450 mg, vitamin C 350 mg/kg
Trace elements: ferrous sulphate monohydrate 237 mg, potassium iodide 1.7 mg, copper sulphate pentahydrate 30 mg, manganous sulphate monohydrate 112 mg, zinc sulphate monohydrate 527 mg, sodium selenite 0.2 mg.
(*milligrams per kilo of product)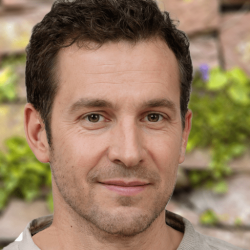 Latest posts by Juanjo Blanco
(see all)